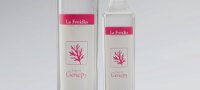 The liquor is obtained by working with flowers produced by small holdings. The infusion lasts at least 90 days and needs to be refined for another 12 months. Such method gives a fine and perfumed product perfectly balanced.
The absence of colour in the liquor is due to a particular technique of infusion called "in suspension". With this method, the flowers do not come in direct contact with the alcool, but are suspended above it, all the essential oils are in this way estracted without the coloured substances and other components. Eventual sediments are a natural side effect of this method.
Excellent as a digestive liqueur, to best appreciate its bouquet, the genepy should be served in "Napoleon" glasses at 15°-16°.
From spring 2004 the liquor can use the trade mark of "Genepi Occitan" because it has followed all the rules and regulations set by the association of wich the firm is a member.
---
Copyright © 2011 La Freidio di Rovera Paolo - Via Nazionale 64 - 12020 Stroppo (CN) - Tel. 380 2512649 - P.Iva 02570360046